Graphtec FC9000 Series Cutting Plotter
---
---
Features
Best in class ability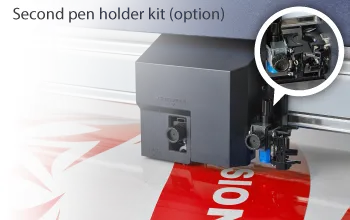 1485mm/s maximum cutting speed, 39.2m/s2 maximum acceleration, 5.88N (600gf) maximum cutting force. The FC9000 Series offers best in class productivity and abilities with a wider range of medias from thick to thin.
Reliable long-length tracking (Automatic Take-up Roller)
It supports long-length, 15m (50ft) (Operated with Graphtec specified media and conditions.) and makes possible to cut large signs/pops with stable paper carriage and high accurate cutting quality. In addition, if Automatic Take-up Roller as option is equipped to plotter, it becomes possible to automatically wind media and improve your work efficiency.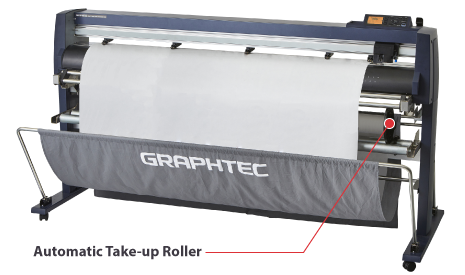 The media is detected by the ultrasonic sensor and rolled up automatically. Corresponding Models: FC9000-140/160・Guaranteed accuracy length: 20m(Under 1.2m per job)
・Maximum diameter of winding roll: φ180mm
* Winding conditions:
 - End face of roll media and end face of paper tube should be aligned.
 - Width of roll media should be the same as width of paper tube at winding side.
* It cannot be winded if media is folded or overlapped inside the basket.
Auto paneling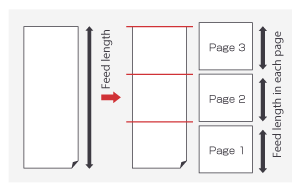 To prevent skew of long-length cutting, this function makes possible to automatically split long-length jobs into smaller pages that are cut sequentially. It shortens feed length and enables stable cutting. It is useful for cutting with higher accuracy or beyond guaranteed long length.
Data output via USB flash memory without PC

When cutting data designed with Cutting Master 4 or Graphtec Pro Studio / Plus are saved to USB flash memory, it can be output directly to the cutting plotter by plugging in. This simplified work-flow enables users to operate without a computer.
* The USB flash memory format only supports FAT32. Please note that NTFS and exFAT are not supported.
User-friendly control panel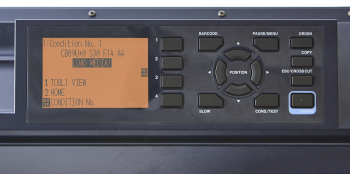 3.7inch LCD display and easy-to-use control panel supports 10 languages.
Improved ARMS for high precision cutting (ARMS 8.0)
The Advanced Registration Mark Sensing system delivers precise Print & Cut results by using sensors to detect registration marks and perform axis alignment. Countless efficiency boosting features improve productivity for print & cut applications such as stickers and decals.
Data Link Function (Barcode Data Management/Continuous Cutting)
By reading the Graphtec original Barcode, FC9000 automatically detects its linked data from PC or USB flash memory. This function is available regardless of which printer or RIP software is used.
* The USB flash memory format only supports FAT32. Please note that NTFS and exFAT are not supported.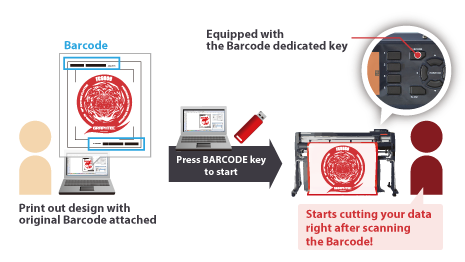 Continuous Cut (Data Link function)
Barcode data management allows cutting different data sequentially by detecting the "Start Mark" of the new Barcode. Sequential Print & Cut process with roll-media is now available.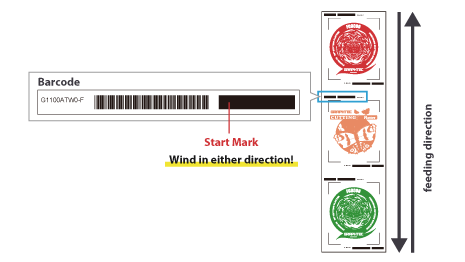 Supports colored marks / specialty media
A wide variety of media types including holographic paper and reflective sheets are now compatible due to improvements of the ARMS sensor algorithm.
* Sensor may not be able to read certain combinations of specialty media and colored marks.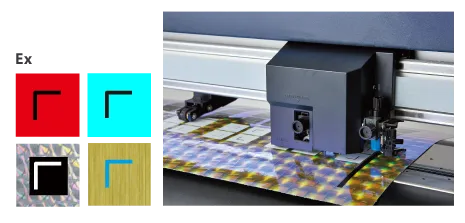 Supports Adobe Illustrator "Crop Marks"
Using the plug-in software Cutting Master 4, Adobe Illustrator crop marks will be available.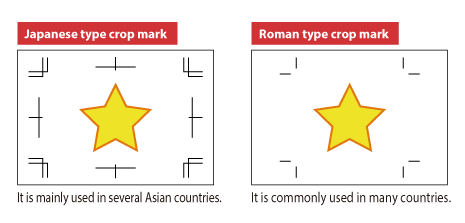 Expanded Cutting Area
The expanded cutting area to include objects outside of the area enclosed by registration marks. Production efficiency is enhanced by reducing media waste.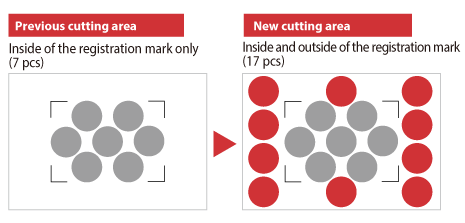 Segment Area Compensation (XY)
This function has been implemented in addition to the current X-axis Direction Segment Area Compensation. Middle mark is now available not only for X but also Y-axis alignment.


Specifications
Item
FC9000-75
FC9000-100
FC9000-140
FC9000-160
Configuration
Grit rolling type
Drive method
Digital servo drive
Max. cutting area (W x L) (*1)
762mm × 50m
1067mm × 50m
1372mm × 50m
1626mm × 50m
Cutting area of guaranteed accuracy (*1)
742mm × 15m
1047mm × 10m
762mm × 15m
1352mm × 10m
762mm × 15m
1607mm × 10m
762mm × 15m
Mountable media width (*2)
Min. 50mm
Max. 920mm
(36.2 inch)
Max. 1224mm
(48.1 inch)
Max. 1529mm
(60.1 inch)
Max. 1850mm
(72.8 inch)
Mountable roll media diameter
76 to 200mm (160mm when the optional paper ange (OPH-A21) is installed)
Mountable roll media mass
12kg
16kg
20kg
24kg
Compatible take-up roll width
-
200 to 1372mm
200 to 1626mm
Compatible take-up roll mass
-
20kg
Maximum cross cut width
762mm
1067mm
1372mm
1626mm
Max. cutting speed
1485mm/s at 45° direction
Axial acceleration
Max. 39.2m/s2 at 45° direction
Cutting force
Max. 5.88N (600gf)
Minimum character size
Approx. 5 mm alphanumeric (varies depending on character font and media)
Mechanical resolution
0.005mm
Programmable resolution
GP-GL:0.1 / 0.05 / 0.025 / 0.01mm 
HP-GL™ (*3):0.025mm
Repeatability (*1)
Max. 0.1 mm in plot up to 2 m (Excluding media expansion and contraction)
Number of push rollers
2 rollers
3 rollers
4 rollers (Max. 5 (option))
Mountable number of tools
1 tool (mountable 2 tools (option))
Blade types
Supersteel
Pen types
Oil-based ballpoint pen, Water-based fiber-tip pen
Media types
Thickness 0.25mm or less Marking film (PVC film / fluorescence / reflective), Polyester film (on condition),
High Intensity reflective film (Diamond grade, Engineer grade) (*4)
Display
Graphic type LCD with back-light (240dots × 128dots), supports 10 languages
Interface
USB 2.0(Full Speed), Ethernet 10BASE-T/100BASE-TX
Buffer memory
2MB
Command sets
GP-GL / HP-GL™ (Set by command or auto-detect) (*3)
Compatible OS (*5)
Windows 10 (Home / Pro / Enterprise / Education)
Windows 8.1 (Windows 8.1 / Pro / Enterprise)
Mac OS X 10.6~10.11 / macOS 10.12 (Sierra) to11 (Big Sur)
Supported software
DOWNLOAD
Graphtec Pro Studio (*6), Graphtec Studio, Cutting Master 4 (*6), Windows Driver
Power source
100 V to 240 V AC, 50 / 60 Hz
Power consumption
Max. 120 W
Operating environment
10 to 35 ºC, 35 to 75 % R.H. (non-condensing)
Guaranteed accuracy environment
16 to 32 ºC, 35 to 70 % R.H. (non-condensing)
External dimensions (W × D × H)
* Includes stand and basket.
Approx.
1360x1151x1232 mm
Approx.
1665x1151x1232 mm
Approx.
1970x1151x1232 mm
Approx.
2224x1151x1232 mm
Weight (approx.)
* Includes stand and basket.
49 kg
56 kg
64.0 kg (80.9kg with installed automatic take-up roller)
70.0 kg (88.5kg with installed automatic take-up roller)
Safety
PSE, UL/cUL, CE mark
EMC
VCCI Class A, FCC Class A, CE mark
(*1)

Operated with Graphtec specified cutting condition and media. For long-length cutting, the basket is used.

(*2)

There are conditions for operability when setting media.

(*3)

HP-GLTM is a registered trademark of Hewlett-Packard Company.

(*4)

CB15UA/CB15UA-K30 blades and reinforced backing sheets are recommended for certain grades of high-intensity reflective film.

(*5)

Graphtec does not support software/driver used with operating systems that have become obsolete and are no longer supported by the OS developer.

(*6)

It requires an Internet connection in order for activation or registration when starting the software for the rst time.
Standard accessories
Item
Q'ty
Description
Power cord
1
The type of cord is different by destination.
USB Cable
1
2.9m long
Cutting blade holder
1
PHP33-CB09N-HS
Cutting Blade
1
CB09UB-1P
Loupe
1
PM-CT-001
Fiber-tip pen holder
1
PHP31-FIBER
Water-based Fiber-tip pen
1
KF700-BK (black)
Stand
1
Media Stocker
1
Basket
1
Flange set
1
OPH-A21 (only America)
DVD-ROM
1
User manual, Windows driver,
Graphtec Pro Studio (Windows, 1 license), Graphtec Studio (Mac), Cutting Master4
Printed document
1
SetupManual, Cutter Blade Manual and Safety Manual
Option
Item
Part No.
Description
Automatic Take-up Roller
OPH-A43
For FC9000-140
OPH-A44
For FC9000-160
Additional push roller kit
OPH-A47
For FC9000-140 or FC9000-160
2nd pen holder
ECK0013
For dual tool configuration (dealer option)
Flange
OPH-A21
Flange for media holding
Graphtec Pro Studio Plus
OPS682-PLS
Design software including all advanced functions (1 license)
Graphtec Pro Studio Plus for Rhinestone
OPS682-RSF
Limited edition of rhinestone function only (1 license)
Graphtec Pro Studio Plus for Auto Nesting
OPS682-ANF
Limited edition of auto nesting function only (1 license)
Dimensions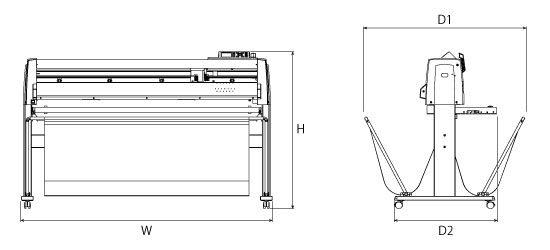 FC9000-75
FC9000-100
FC9000-140
FC9000-160
External dimensions (approx.)
【W×D1(D2)×H】
1360x1151(840)x1232 mm
1665x1151(840)x1232 mm
1970x1151(840)x1232 mm
2224x1151(840)x1232 mm
*

Includes stand and basket.

*

Tolerance : +/- 5 mm